Info-Event for anyone thinking about an M.A. in American History, Culture and Society
Join us for our Info Event on Wednesday, June 1 at 8 pm (s.t.), and you will get a chance to learn more about the MA program at LMU's Amerika-Institut and hear from current students and faculty.
24.05.2022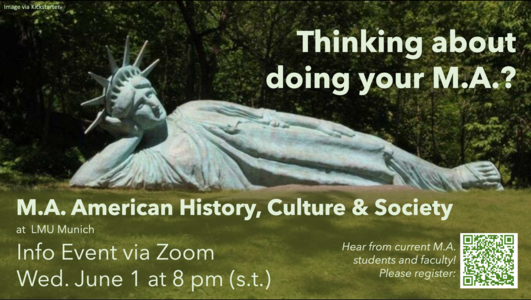 The M.A. "American History, Culture and Society" is an interdisciplinary degree that gives you an excellent basis to pursue careers, for example in intercultural relations and cultural organizations, the world of media or the sphere of NGOs and public engagement. Our classes explore popular and visual culture, ethnic and gender studies, as well as literary, economic, and political topics. Learn about branching out to environmental history and transatlantic relations and designing an M.A. experience that fits your individual research interests.