"Goddam Dangerous" — 2ND PERFORMANCE; Back by Popular Demand
On Wednesday, February 8 at 7pm, students and faculty of the Amerika-Institut will perform, for the second time, "Goddam Dangerous" — A Stage Reading of Historical Documents on the Cuban Missile Crisis at the Amerikahaus München.
31.01.2023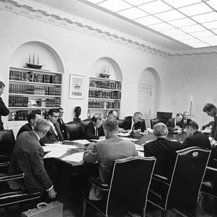 After the show, the writers and performers will stay for a Q&A, and you can explore the current exhibit at the Amerikahaus on the Cuban Missile Crisis (also curated by our students).
Join us in having a look behind the curtain of these fateful days in October 1962 and rounding off another exciting Semester at the Amerika-Institut!
Admission is free, please make sure to register for the event here: https://www.amerikahaus.de/ausstellungen-und-veranstaltungen/2023-02-08-reading-kubakrise-1?appointment=315