Aktuelle Konferenzen
Where My Girls At? Contemporary Feminist Art
A conference for graduate students and emerging scholars of American Studies
Amerika-Insitut, LMU Munich, July 2, 2020
Against the background of the emergence of the #MeToo movement and Fourth Wave Feminism, this conference examines North American art and artivism and its capacity to inspire change, reformulate feminist ideas, and reimagine a feminist aesthetics. We aim to explore the role of art and visual culture in contemporary feminist movements as well as artistic practices by feminist artists.
If you are interested in participating, please submit your proposal (in one PDF) to all organizers by 30 April 2020.
We welcome submissions from graduate and PhD students, emerging scholars, and artists/performers. We encourage proposals for experimental/creative formats.
Find out more about the Conference and how to submit:
>> PDF Download Call for Paper <<
"Art of Protest" in Lisbon
November 23.-24., 2018 at the Nova University, Lisbon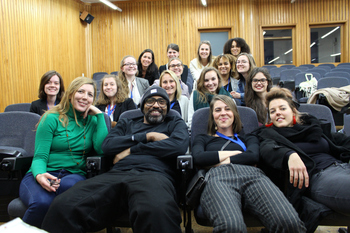 A group of ten BA and MA Students of LMU Munich's American Studies program participated in an international conference at Nova University in Lisbon in November, 23/24, 2019. At the conference, "Dikes of Courage: Martin Luther King, the Civil Rights Movement, and the Aesthetics of Protest," they presented papers in two student panels on "#BlackLivesMatter and the Aesthetics of Protest." Their papers analyzed the representations of the Black Lives Matter movement in different media and art forms: music, theatre, visual arts, and television.
Here's a report on their participation at the conference!
Also check out the students blog LMU goes Lisbon