Chernobyl Children in the United States: Traveling with a Nuclear Disaster as Luggage
We kindly invite you to the guest talk of Prof. Dr. Melanie Arndt (Freiburg University) on Thu, 11.05.2023, 2-4pm, in S007 (Schellingstr.3)
09.05.2023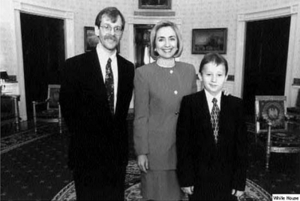 In the years following the explosion at the Chernobyl nuclear power plant, more than one million Belarusian, Ukrainian, and Russian children travelled abroad as 'Chernobyl children.' The lecture traces the fates of the children received by the former enemy empire, the USA. It examines these trips from the perspective of both the children and the host organizations and families, and shows the extent to which they helped turn the 'Soviet' disaster into a 'transnational' one.
This guest talk held by Prof. Dr. Melanie Arndt is part of the lecture series "Crises-Wars-Environments" (convener: Prof. Dr. Christof Mauch).
Source:
Hillary Clinton with Aleksandr Kuzma (Children of Chernobyl Reflief Fund) and 'Chernobyl child' Vladimir Malofienko at the White House, May 1st, 1996. Clinton Presidential Library.